Hanushka OS
Vodofone Kossack x G Lalita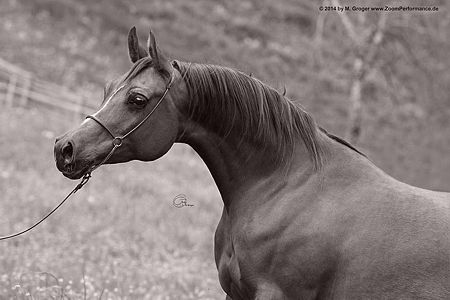 Rasse/Breed:
Vollblutaraber / Purebred Arabian
mainly Russian bred
Geschlecht/Sexus:
Stute / Mare
geboren/born:
13.05.2004 - 2015
Farbe/Color:
Fuchs / chestnut
Measurements:
153-185-19,5 cm
Züchter/Breeder:
J. Fraser-Brown, GB
SCID Status:
clear tested N/N
CA Status:
clear tested N/N
Nachzucht/Progeny:

2010 Al Azhar ARA by Ajman Moniscione, Colt, chestnut
2012 Al Batal ARA by Ajmal Maghreb, Colt, bay
2013 VA Alba by Alfabia Aragon, Filly, grey
2015 Tragend von / In foal to Feuer Jade (Ajman Moniscione x Neva Bint Volga)

Hanushka OS is a very interesting mainly Russian bred broodmare - short face, broad forehead with huge eyes, elegant neck, strong conformation and breathtaking movement.
Vodofon Kossack
Fuchs/chestnut
Balaton
Fuchs/chestnut
Menes
Braun/bay
Nabeg
Metropolia
Panagia
Schimmel/grey
Aswan
Pustinia
Verba
Braun/bay
Murmansk
Fuchs/chestnut
Muscat
Monogramma
Pauza
Schimmel/grey
Aswan
Panel
G Lalita
Schimmel/grey
Peleng
Fuchs/chestnut
Nabeg
Braun/bay
Arax
Nomenklatura
Palmira
Braun/bay
Salon
Ptashka
Lalique DS
Schimmel/grey
Menes
Braun/bay
Nabeg
Metropolia
La Salone LTD
Schimmel/grey
Salon
Bint La Quinta
"Annie" I discovered some years ago during a visit of Jane Fraser Bronwn´s studfarm in Whales/GB. It was my first visit to Oakwaysstud and I had not seen any of their horses in the flesh before. Hence blissfully ignorant I walked into Jane´s barn to find this young chestnut coppery mare staring at me with her massive big black eyes. Certainly it did not take much to realize that I was pretty impressed with the looks of this young mare and Jane had to tell me all about her.
As a daughter of Vododfon Kossack (Balaton x Verba) and G Lalita (Peleng x Lalique DS) Annie is mainly Russian bred. Her pedigree is a blend of some of the greatest horses to have ever left the famous State Stud in Tersk. Also the mares´s looks is reminiscent of her heritage. She is a bold mare with a strong body, beautifully shaped neck, short triangle head with a broad forehead and huge black eyes and powerful movements. In her junior years Annie had been lightly shown and accomplished some very good results at different shows throughout Great Britain. Long story short Annie had everything I was looking for and I wanted to buy her, but she was not for sale at that time. So after some very exciting days in Whales I went home empty-handed and uncertain if this story ever was to be continued?
But it was! A few month later Jane contacted me to tell me that I could buy the mare if I still wanted to! Certainly I did and so it happened that Annie came to Austria in late 2007. Since then I have only used her as a brood mare. To date she has given me three very smart foals. Currently she is in foal to one of Ajman Moniscione´s most exciting sons, the highly decorated Feuer Jade. I am very excited about this cross and eagerly anticipate the resulting foal!
Photos: © by Kwiatkowski, M.Groger