AV Scahrlett
Om El Bahreyn x DA Sandala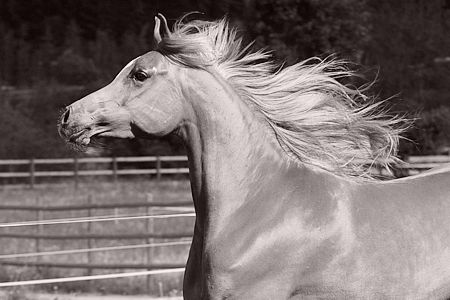 Rasse/Breed:
Vollblutaraber / Purebred Arabian
Geschlecht/Sexus:
Stute / Mare
geboren/born:
06.05.2006
Farbe/Color:
Fuchs / chestnut
Measurements:
158-186-19,0 cm
Züchter/Breeder:
Caroline Reid, GB
SCID Status:
clear tested N/N
CA Status:
clear tested N/N
Nachzucht/Progeny:

2012 Pescarion ARA by Abha Peshawar, Colt, chestnut
2013 Scahrwen ARA by Alfabia Aragon, Filly, chestnut
2014 Scahrteyn ARA by ZT Marwteyn, Colt, bay
2018 AV Lilac Sky by E.S. Sarab, Filly, grey
2019 Crimson Sky ARA by E.S. Sarab, Filly, chestnut

AV Scarlett is another showing her sire certainly stamps his stock with her effortless elegance, joie de vivre and people pleasing personality. Entered as a foal at the British Nationals, she was halter broken the week before, had two very short and sweet training session and showed with aplomb, winning her class and gaining the title of British National Champion. A super mare with great potential as a show horse and foundation broodmare.
Om El Bahreyn
Schimmel/grey
CG Balih el Jamaal
Braun/bay
Ali Jamaal
Braun/bay
Ruminaja Ali
Heritage Memory
Bet El Wali NA
Fuchs/chestnut
El Shaklan
Bint De Moniet-NA
Om El Benedict
Schimmel/grey
Sanadik El Shaklan
Schimmel/grey
El Shaklan
Mohena
Om El Beneera
Schimmel/grey
Sharem el Sheikh
Estopa
DA Sandala
Schimmel/grey
Sanadik El Shaklan
Schimmel/grey
El Shaklan
Schimmel/grey
Shaker el Masri
Estopa
Mohena
Schimmel/grey
Hadban Enzahi
Morisca V
The Grand Passion
Parik
Fuchs/chestnut
Aswan
Palmira
SK Cameo Queen
Schimmel/grey
Hilglor Rainmaker
Dream Princess
In early summer of 2010 my brother Klaus joined me on a trip to England to look at horses. Many years ago Klaus tried to gain a foothold in the Arabian Horse Business. Unfortunately he did not meet the right people then and his first attempt to get involved with the Arabian Horse came to a bad end. Since then he was without a horse and never intended to give it another try. I cannot tell what exactly it was that changed his mind, but shortly after we had returned home from this horsey tour through the south of England, he walked up to me to tell me that he wanted to buy a young mare for himself. Immediately AV Scahrlett, a bright chestnut mare which we had seen at Caroline Reid´s place, came to our mind as we thought this specific one would meet his expectations best. AV Scahrlett, three years old at that time, was a very tall and leggy young mare with a pretty face, good neck, great body and lots of snort and blow. Yet most importantly she was impeccably bred! Her sire is the very successful Om El Bahreyn and her dam the stunningly beautiful DA Sandala. DA Sandala is an ethereal beauty and her sire no one less than Sanadik el Shaklan!
As we were after a young mare that could be very competitive in the showering before becoming an exquisite broodmare, AV Scahrlett seemed to be perfect. So our minds were set and we only had to convince Caroline to sell her to us. This was the more difficult part as AV Scahrlett was very special to Caroline and she did not want to sell her. But after many mails were sent back and forth and a few phone calls were done, Caroline agreed to the sale and we were able to purchase AV Scahrlett.
As said she was primarily meant to become a show horse. However she has not returned to the showring since we bought her and has been used as a broodmare instead. Her first foal, a very smart chestnut colt by Abha Peshawar, was sold at a very young age here in Austria. Her second foal, a filly we named Scahrwen ARA, is by Alfabia Aragon. "Pipi" ("Principessa") is very special to us and we decided to keep her to be part of our small breeding program in the future. In May 2014 Scahrlett gave birth to a very exciting, light bay colt by ZT Marwteyn - Scahrteyn ARA. We believe this colt has a very bright future ahead of him. He is our show contender for the 2015 show season.
So after I have seen the resulting foals of matings with three different stallions, I believe this mare certainly has extraordinary potential to breed offspring of the highest standard. It will be very exciting to go out and find the best match for her to give her another change to amaze us with an additional outstanding foal!

Photos: © by Kwiatkowski