ZT Shakgeyma
El Shaklan x ZT Rageymasson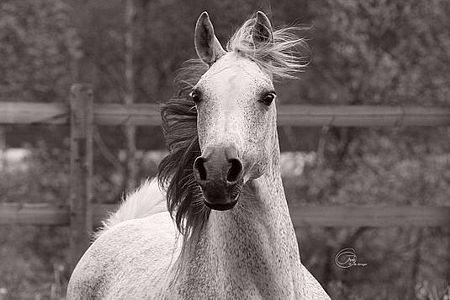 Rasse/Breed:
Vollblutaraber / Purebred Arabian
Geschlecht/Sexus:
Stute / Mare
geboren/born:
25.08.1998
Farbe/Color:
Schimmel / grey
Measurements:
153-184-18,5 cm
Züchter/Breeder:
Zichy Thyssen, ARG
SCID Status:
clear tested N/N
CA Status:
clear tested N/N
Nachzucht/Progeny:
ZT Shakgeyma is a rare gem; a daughter of the incomparable El Shaklan. All Shakgeyma's foals have been show winners and Champions. ZT Shakgeyma is an extremely elegant mare with a beautiful neck. Her nature is calm and kind, but she will put on a show supreme whenever asked too!
El Shaklan
Schimmel/grey
Shaker El Masri
Fuchs/chestnut
Morafic
Schimmel/grey
Nazeer
Mabrouka
Zebeda
Schimmel/grey
El Sareei
Galila
Estopa
Schimmel/grey
Tabal
Schimmel/grey
Congo
Hilandera
Uyaima
Schimmel/grey
Barquillo
Imelina
ZT Rageymasson
Schimmel/grey
Gaffizon
Schimmel/grey
Ferzon
Schimmel/grey
Ferneyn
Fersara
Gaffi
Schimmel/grey
Raffi
Galatina
Gai-Ga Rageyma
Schimmel/grey
Naborr
Schimmel/grey
Negatiw
Lagodna
Ga-Rageyma
Fuchs/chestnut
Ferzon
Gajala
The year 2010 did not start out too well for me. After I had just sold Ksenja, a beautiful grey daughter of Ajman Moniscione and my beloved straight Russian mare Kalia, I lost Kalia as a consequence of a heavy birth. With the help of the vet she delivered a beautiful filly by Alfabia Al Bustan. Unfortunately the resultant injuries of the previous complicacies were too severe, and she had to be put to sleep consequently. Sadly only a few days later also the filly followed her mother. At that time I was rather lost and did not know which way to go concerning the horses. Even a few month later, when travelling to the UK to look at horses, I was not sure whether to just leave it or to continue breeding Arabians?
Anyway after I had spotted a number of horses advertised for sale in the UK, all with pedigrees heavily influenced by horses bred by Om El Arab, I decided to go see them. At this point I need to chip in that I was very fortunate to have spent three beautiful summers at Sigi´s and Janina´s farm in Santa Ynez/California. During my time there I certainly learned a lot about the Arabian Horse breed in general but also got to know the "Om El"-horses in particular. Working with these stunningly beautiful and kind natured horses was a great pleasure and an experience, I would not want to miss.
So back to my journey to England, my first destination was AV Arabians owned by Caroline Reid in Western Sussex. Over the years Caroline had imported some very interesting individuals from California and also Argentina and managed to make a name of herself as a breeder of high quality horses. It was very exciting for me to see this collection of horses with El Shaklan blood, and the more time I spent there talking to Caroline and looking at the horses the more obvious it became that I would not travel home without a new mare to be part of my own breeding. It was not that easy though because the one I had chosen, a very elegant bay filly by Om El Bahreyn and out of an own daughter of El Shaklan, was not for sale! How could it be any different? But Caroline mentioned casually that she still owns the filly´s mother and would consider to sell her! The problem was that the mare ZT Shakgeyma was with someone else and I did not have any time left to drive there to see her in the flesh since I had to catch a plane. Back home all I had was a pedigree and a picture to give me an idea of what she looks like plus the proof of her ability to produce well. I hated the fact that I had not had a chance to see her, still I decided in favor of her.
Today I can say that buying this mare certainly was the right thing to do. ZT Shakgeyma is an extremely elegant mare with a beautiful neck. Her nature is calm and kind, but she will put on a show supreme whenever asked too. And most importantly she is one of the few own daughter of El Shaklan in Europe and still producing! To date she has given me two very smart foals by Om El Shahmaan, one colt named Geymian Shah and a filly called Geyshah. I am very much looking forward to breeding more foals out of this mare!
Photos: © by M.Groger (5), Kwiatkowski (4)