AV Chicfantasy
ZT Shakfantasy x MA Tatia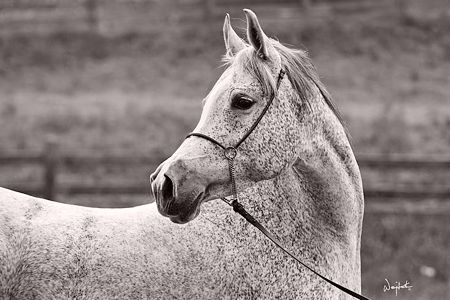 Rasse/Breed:
Vollblutaraber / Purebred Arabian
Geschlecht/Sexus:
Stute / Mare
geboren/born:
20.05.2000
Farbe/Color:
Schimmel / grey
Measurements:
155-191-19,0 cm
Züchter/Breeder:
Caroline Reid, GB
SCID Status:
clear tested N/N
CA Status:
clear tested N/N
AV Chicfantasy is yet more proof that World Champion ZT Shakfantasy's daughters are exceptional broodmares. This tall mare has a very classic look about her, and tremendous attitude and presence.
ZT Shakfantasy
Schimmel/grey
El Shaklan
Schimmel/grey
Shaker El Masri
Fuchs/chestnut
Morafic
Zebeda
Estopa
Schimmel/grey
Tabal
Uyaima
RH Light Fantasy
Fuchs/chestnut
Bey Shah
Braun/bay
Bay el Bey
Star of Ofir
Firelight
Fuchs/chestnut
Bask
Aethena
MA Tatia
Schimmel/grey
Imperial Imperor
Schimmel/grey
Ansata Imperial
Schimmel/grey
Ansata Ibn Sudan
Ansata Delilah
Imperial Mistry
Fuchs/chestnut
Mosry
Ansata Nile Mist
AK Tatima
Braun/bay
Moniet El Sharaf
Braun/bay
Ibn Moniet el Nefous
Bint Bint Moniet
SRA Nasaddi
Fuchs/chestnut
Asadd
FA El Hannah
My little "Monkey" loves to strut her stuff! She is full of snort and blow though has the sweetest nature one can imagine. She might be one you would walk by when seeing her just standing in her stall, but wait till she comes out and turns it on, she will simply take your breath away!
The same nearly happened to me when I first saw her as there were others, which I favored over her. In the end I am very thankful that Caroline from AV Arabians put her on the lorry for me together with ZT Shakgeyma and AV Scahrlett.
Monkey has already produced Champion offspring and I do hope there are a few more to come. She is one of the very few daughters of ZT Shakfantasy here in Europe out of the straight egyptian mare MA Tatia by Imperial Imperor, which was imported by Shirley Watts of Halsdon Arabians from the United States. I believe Monkey´s pedigree is a very exciting combination of many great horses. I am sure, she will do her bit for my breeding program!
Photos: © by Kwiatkowski